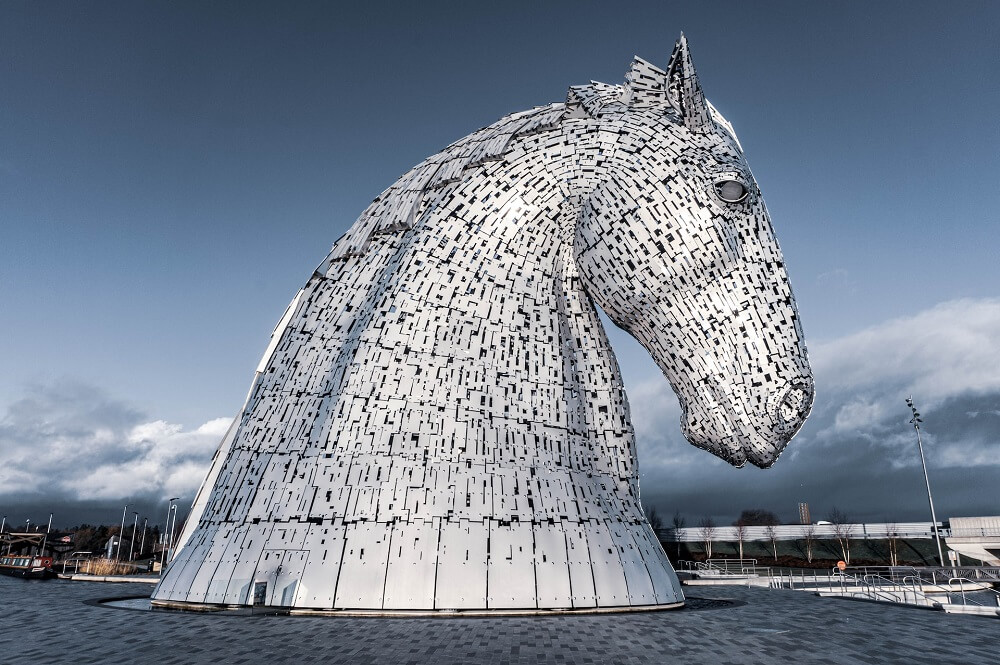 Steel is one of the most commonly used materials in construction, technology and architecture. It is flexible yet durable, resistant to the effects of time and weather and looks good. Additionally, it is also recyclable, reusable and cost-effective, making it a popular material choice. But all these qualities make steel good for construction and architecture. Yet one of the most creative applications that steel can have is for art.
The Beginnings of Art and Steel
Artists have used steel for monuments, sculptures, jewellery and other items for over half a century. The durability of the material and its resistance to erosion makes it a desirable material for sculpting. Steel can be finished in many different ways, from shiny to rusted. This also allows for great flexibility for the artist.
The Kelpies, Forth and Clyde Canal, Falkirk, Scotland
One of the most famous steel sculptures today is The Kelpies, located in Falkirk, Scotland. The massive sculpture depicts two kelpies, spirits in Scottish mythology with the ability to shape-shift.
The two horse heads are 30 meters high and weigh 300 tonnes each. The artist who made them is Andy Scott, one of Scotland's best-known equine sculptors. The materials used were structural steel with stainless steel cladding.
The Unisphere, Flushing Meadows-Corona Park, New York, USA
Another iconic steel sculpture is the Unisphere, which represents Earth and its geography. The sculpture is 43 meters high and 37 meters wide and stands on a 6-meter base on top of a reflecting fountain. Gilmore D. Clarke designed this piece which used steel, with over 500 pieces representing various countries.
The Atomium, Heysel Plateau, Brussels, Belgium
Anyone who visits Brussels should definitely visit the Atomium, one of the tallest structures in Belgium. It was originally built as a tribute to the scientific growth in the country at the time. It stands 102 meters tall and is constructed out of stainless steel. Each sphere of the structure also hosts different exhibits, and one of them even contains a restaurant.
Sibelius Monument, Sibelius Park, Helsinki, Finland
This massive steel sculpture in the Sibelius Park in Helsinki is a monument to Sibelius, Finland's most famous composer, and it depicts the essence of his music. Twenty-four tonnes of steel were used for this art piece made of hollow pipes.
The Steel Man, Sheffield, Yorkshire, United Kingdom
Sheffield has a history of steel production, and The Steel Man is a soon-to-be-built art project that aims to create a landmark for the region. It will depict a 32-meter-high male figure sitting on a massive coal base, symbolising the large coal seams in the area.
From Art to Architecture
Steel is versatile and durable, making it suitable for both artwork as well as construction. If you're planning a building or renovation project that requires steel, RW Steel can help. We are Melbourne's leading provider of galvanized steel posts and retaining wall steel. Contact us today for a free estimate!