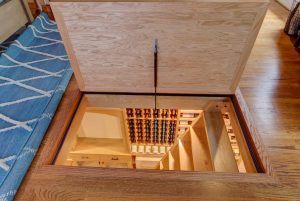 As a homeowner, it's understandable that you would want your home to have everything you need to relax after a long day at work. Smart home features such as AI-controlled appliances or WiFi sound systems can be massive boons, helping to improve the quality of your home living.
One of the ultimate ways to personalize your home is by adding a secret room to your living space. In this post, we take a look at some of the ways that you can do so.
Are Secret Rooms Expensive?
Before you hire a contractor to make your secret room, plan carefully. Consider the room's placement, size, access points and what you intend to use the room for. A small room in an existing place can cost you $3,000 to 4,000, whereas an extensive project that involves significant construction work can cost upwards of $10,000.
1. Secret Wine Cellar
For wine lovers, a secret cellar can be a dream come true. To build one, you can equip a basement or unused room with temperature and humidity control systems and add a hidden access point. Use exposed brick and wood for a classic wine cellar look.
2. Hidden Entertainment Room
Many of us dream of an entertainment room where we can retreat at the end of a long day. By separating this space from the rest of the home, you can enjoy your hobbies in privacy and comfort.
The theme of your entertainment room is completely up to your own imagination. Some ideas you can consider include a movie theatre, a mini-bar, a dance floor, a gaming area, or a sports-themed den with a pool table and jukebox!
Consider Soundproofing
A secret room would not be so discreet if you easily hear sounds coming from it. Consider soundproofing your hidden entertainment space with professional methods, or at least have plenty of cushioning drapes or carpets to muffle the noise.
3. Harry Potter Stairs 2.0
If your home has a staircase, the space underneath can become a small secret room, much like the one in the beloved Harry Potter story. You can use this space to create a hangout for the kids, a mini-office or even a small guestroom.
4. Hush the Flush with a Hidden Bathroom
Another practical idea is to convert an existing bathroom into a secret room. You can put the entrance behind a bookshelf or sliding wall. Reserved for family members, a hidden bathroom can provide much more privacy than the main one. As mentioned before, consider adding soundproofing for extra comfort when someone is using this discreet bathroom.
Secure Your Secret Spaces with Steel
Secret rooms are great conversation starters, as few people are familiar with them or have visited one. Whether it's a wine cellar or a hidden kid's playroom, it's important for you to use proper structural support to ensure that your new space lasts a lifetime. Galvanised steel posts are an excellent option and structural support, providing much-needed strength to any structure.
RW Steel is a leading supplier of high-quality steel products in Melbourne and the surrounding areas. We have the knowledge and expertise to help you make your hidden space a reality. Contact us today for a free quote for all your steel needs!
Image Source: Houzz