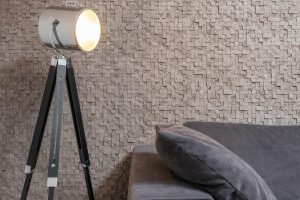 Designing and furnishing their homes is something that many homeowners take pride in. Many homeowners relish the freedom they have to choose how they want their homes to look from the inside and out.
When you visit a home, an expression of the homeowner's unique personality is there from the moment you step in. Because of this, it's important for homeowners to design and furnish their homes in a way that best reflects their style. One of the most long-lasting interior design trends is the industrial-chic style, which we take a closer look at in this post.
What Is Industrial Chic?
The industrial style of interior design, also known as industrial chic, first became popular when industrial spaces built in the 19th and 20th centuries started becoming living spaces that featured the inclusion of raw construction materials in the decor.
You will often find exposed brick walls, water piping, duct vents or metal reinforcements as décor in such homes. This makes it easy to implement, depending on the building itself. Industrial chic can be approached with a lot of creativity and incorporate other trends and designs. But some recurring elements appear in a lot of industrial chic interiors.
Common Design Elements of Industrial Chic
Common elements of this decor style come from the core building structure. They can include industrial features that contrast nicely with furniture, artwork, carpets, and window treatments. Other characteristic details include open spaces, large windows, and minimalist decorations.
Examples of Industrial Chic Design
As mentioned above, some of the finest examples of industrial interiors date back to the 20th century. Many contemporary artists reconverted old factories into homes during that time. Andy Warhol is one of the celebrities to embrace this architectural style. Luxurious industrial lofts can also be found in prestigious cities like New York and Chicago and in certain parts of Europe.
The Benefits of Industrial Chic
The industrial-chic design might not seem the most accessible style, but it has unexpected benefits, such as:
You can incorporate existing elements of the building. Exposing brick or piping is often not as costly as adding something.
You don't need to add finishes to the walls, ceiling, or floors. Imperfections contribute to the raw, functional look of industrial chic.
You can use recycled materials like bricks, reclaimed wood, or galvanised steel posts.
Decorating an industrial-style interior is simple, often needing just a few accents here and there.
Stalwart Steel and Design
Industrial design is here to stay. It's popular in urban areas but can be adapted to fit homes in more rustic or suburban neighbourhoods. It is also a great way to combine function with style and cherish the beauty of the building itself. When decorating a vintage home or factory loft, the industrial style adds a rustic touch.
If you need materials for your new industrial chic project, RW Steel is here to help. We are a premier provider of high-quality steel beams and posts in Melbourne and the surrounding areas. Get in touch with us today and let us help you make your industrial chic interior designs a reality.