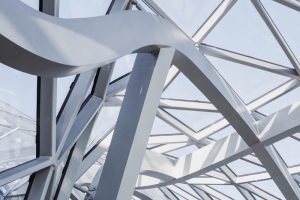 With climate change, the weather around the world has become unpredictable in recent years. In Melbourne, there have been heatwaves, heavy rain and even floods, all in the span of a few years.
With so many of these extreme weather events occurring, it can be a good idea to take more precautions if you live in a home with outdoor installations or metalwork. In this blog post, we take a look at some of the possible problems caused by extreme weather, and how you can protect your home against them using galvanised steel.
How Does Extreme Weather Affect Your Outdoor Installations?
With more frequent rainfall brought by climate change, your retaining walls and outdoor metalwork are more prone to damage. If you have been using regular steel, it may rust more easily. Over a long period of time, the corrosion may affect the structural integrity of the metalwork. This can be a problem for retaining walls, fences or other outdoor structures.
Heavier rainfall may also cause light or moderate flooding in your garden. If this occurs frequently, it can destabilise your garden and cause damage. Your retaining walls may also be subject to greater stress. Keeping these problems in mind, you may consider taking greater care to install new metal structures or improve existing ones, to help your outdoor installations weather the storm.
Protecting Your Property with the Right Kind of Steel
Steel, by itself, is sufficiently ductile to withstand the pressure caused by the environment. However, to combat the harsh effects of extreme weather, you may consider using Corten steel or galvanised steel instead.
Corten Steel
Corten Steel, on the other hand, improves on the existing characteristics of steel. Corten Steel is a type of weathering steel, which comprises a mix of steel alloys that is designed to prevent corrosion. When Corten Steel is exposed to weather conditions for a long period of time, it forms a protective, rust-like sheen that adds to its industrial and rustic appearance. The material itself remains strong enough to support your structure.
Galvanised Steel
Galvanised steel, similarly, is a type of steel that has an edge over regular steel. Galvanisation is a process where a coating of zinc is applied to the steel. The steel is protected by a layer of zinc, which acts as a shield against corrosive elements such as rainfall and heat.
Incorporating Steel into Your Property
If your retaining wall is made of wood or a less resistant material, you may be able to replace it with a professional's help. Switch out your retaining wall for a Corten steel retaining wall. The regular steel retaining wall posts can also be taken out for galvanised steel retaining wall posts. Taking these steps will, no doubt, play a great role to improve your property's resistance to weather changes.
RW Steel at Your Service
RW Steel is Melbourne's best value steel retaining wall beam supplier. If you're looking to improve your home's outdoor installations with Corten steel or galvanised steel, look no further. We offer a wide selection of different steel products that you can use for your next construction project. Get in touch with us today for a free quote!