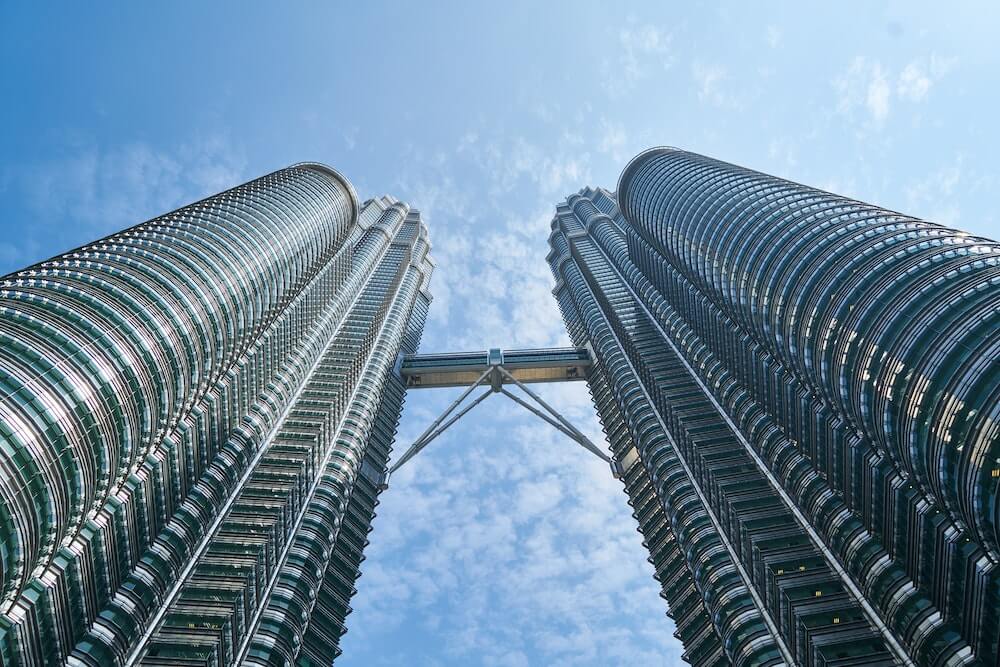 As people started expanding cities upwards, constructing taller buildings that defied the laws of physics – navigating through these vast structures became part of daily life. Often, two buildings next to each other would have the same developer or serve a similar purpose. Employees and visitors might go from one building to another to attend meetings and deliver items.
In the 1960s, Austrian-born architect Victor Gruen focused on making city centres more accessible to pedestrians, a plan which included sky bridges as an innovation.
What Is a Sky Bridge?
A sky bridge is a passageway between two buildings. Usually, it connects the buildings on a lower level, such as on the second or third floor. However, sky bridges can also exist tens of metres above ground, connecting two buildings at a height.
Sky bridges are commonly found in commercial buildings like malls and corporate offices or public ones like museums, universities and hospitals. They ensure ease of access between buildings without exposing pedestrians to the traffic or weather conditions outside.
A Brief History of the Sky Bridge
The idea of a skyway between two buildings is not so recent. Several examples of this architectural detail can be found throughout history, from China to Venice.
One of the most famous historical bridges between two buildings is The Bridge of Sighs in Venice, Italy. It was built in 1600 and connected the Doge's Palace to the prison. This beautiful example shows the ingenuity of this structure that saves travelling time between buildings and provides a unique aesthetic.
Unique Sky Bridges Around the World
Here are some examples of unique sky bridges worldwide:
Marina Bay Sands Sky Bridge, Singapore
This impressive sky bridge tops the three buildings of Marina Bay Sands resort in Singapore. The 1-hectare skyway called the Sands Skypark features a 150-meter infinity pool, restaurants and gardens. Its hull is made of galvanised steel and features mobile joints to counteract the movement of the towers.
Petronas Twin Towers Sky Bridge, Malaysia
One of the most iconic sky bridges in the world connects the two Petronas Towers in Kuala Lumpur. They remain the tallest twin towers in the world, and their sky bridge is the highest double-story bridge in the world. The bridge is made of structural steel and weighs 750 tons.
Nation Towers Sky Bridge, Abu Dhabi
At the time of completion, this sky bridge was the highest in the world. It dominates the city skyline, rising 202.5 meters above the ground. The steel-frame sky bridge serves as a luxurious four-bedroom, five-bathroom residence.
How Steel Plays a Part in Sky Bridges
Sky bridges have to be sturdy, flexible and durable to properly serve their purpose. Galvanised steel posts are ideal for this type of structure, as they are weather resistant and will not corrode or fail.
If you want this same reliability for your next construction or renovation project, get in touch with RW Steel today. We provide a wide selection. Of high-quality beams and steel retaining wall posts for all your construction needs. Contact us for a free, no-obligation quote today.